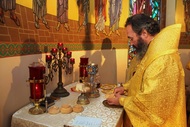 On the Feast of HM. Dionysius the Areopagite, His Emmince JUSTINIAN, Archbishop of Naro-Fominsk, celebrated the Divine Liturgy in
SS. Peter and Paul Church
in Elizabeth NJ.
His Emminece concelebrated the Divine Liturgy with Parish Priest, Mitered Archpriest Emil Minkovich, Archpriest George Konyev, Igumen Nikodim (Balyasnikov), Protodeacon Daniel Sudol and Protodeacon Igor Panachev.
This day was significant to the parish, because 93 Years Ago, the parish was founded.
At the completion of the Divine Liturgy, His Eminence presented Hierarchical Gramotas to members of the parish who are instrumental in the life of the parish.
Archbishop Justinian then shared a festive luncheon with parishioners and was given the opportunity to interact with members of the parish.