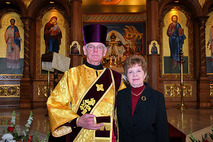 Today marked the 25th Year of the Ordination of our Protodeacon Daniel Sudol. The joyous day began with the celebration of the Divine Liturgy. At the end of the service, Fr. George greeted Fr. Daniel and congratulated him on this occasion. In recognition of the event, and for his diligent labors towards Three Saints Church, Fr. Daniel was then presented with a new set of green vestments on behalf of the parish.

After Divine Liturgy, Fr. Daniel invited all gathered in church to partake of a festive luncheon to commemorate this day.

May God Grant Protodeacon Daniel, Matushka Irene and His Family, Many Years !