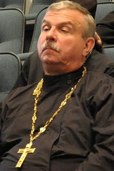 Today we mourn the loss of one of clerics of the Patriarchal Parishes,
Archpriest Stephen Holowach.

He was the rector of the Nativity of Christ Church, in Youngstown Ohio.
Fr. Stephen unexpectedly passed away today from a heart attack.

We pray, that God Almighty will lift up the soul of the newly departed Archpriest Stephen into His Heavenly Kingdom.
ETERNAL MEMORY. ВЕЧНАЯ И БЛАГАЯ ПАМЯТЬ.