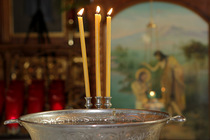 On Thursday, January 19, 2012 , the Holy Church celebrated the Baptism of Christ.
Three Saints Church began the festal celebrations with the celebration of the Grand Compline and Matins . Over one hundred believers filled the church to the Baptized Lord. At the conclusion, the first Great Blessing of Water was performed in which believers were able to partake of the blessed water.
On the actual feastday of the Holy Theophany, Divine Liturgy was celebrated to honor the feast of the Theophany. The Gospel reading from St. Matthew depicted the events in which Our Lord was baptized in the River Jordan.
At the conclusion of Liturgy, Fr George preformed the second Great Blessing of Water.
For More Information of the Feast of the Holy Theophany, Please Click
HERE.