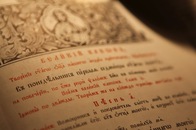 On Sunday, February 28th, 2012 the Triodion marks Cheesfare Sunday, also called Forgiveness Sunday. On this day, after the celebration of the Divine Liturgy, Great Vespers was served to mark the beginning of Great Lent. Fr. George and Protodeacon Daniel concelebrated together with a multitude of faithful.
For the First Week of Lent, the Reading of the Great Canon of Repentance, by Saint Andrew, Archbishop of Crete was read every night together with the Grand Compline.
Presanctified Liturgies were served on Wednesday Morning and Friday Evening.
To Read More About Great Lent Please Click
HERE
.
Below you will find a Video Recording of the Great Canon and Link to the Photo Gallery.