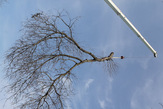 As all our parishioners know, the Church Property is always in motion and needs its constant maintenance.On Friday, March 23, 2012, large, decaying trees were removed from the rear of the Church Rectory and Cultural Center. Also, a large section of grass was repaired after maintenance was preformed underground.
With God's Grace, the Projects were completed in full, and by early May, new shrubs are scheduled to be planted.

Below, our readers are welcome to view Pictures and additional Movies of the work performed.