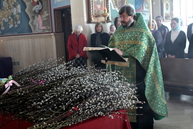 On Sunday, April 8, 2012 the Orthodox Church celebrated the feast of the Entry of our Lord into Jerusalem. On the eve of the feast parish rector, Archpriest George Konyev celebrated the All Night Vigil with the Blessing of the Pussy Willows. The following day of the feast, Fr George, concelebrated by Protodeacon Daniel Sudol celebrated the Divine Liturgy. Approximately 100 communicants partook of the Holy Mysteries of Christ.
To Learn More About Palm Sunday, Click
HERE
Below the readers of our website will find Additional Photographs from the Feast as well as Video from the Eve of the Feast.