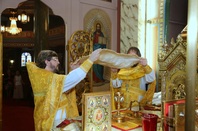 O first enthroned among the Apostles and teachers of the whole world; entreat the Master of all, that He grant peace to the world and great mercy to our souls.
-Troparion to the Holy Apostles Peter and Paul

On Thursday, June 12,2012 the Holy Church marks the feast of the Holy Apostles Peter and Paul. With the generous invitation of Priest Stephen Kaznica rector of SS. Peter and Paul Russian Orthodox Cathedral in Passaic NJ, the clergy of the Three Saints Church in neighboring Garfield, visited its sister parish on the occasion of its Patronal Feastday. At the end of the service, Fr Stephen greeted the above-mentioned clergy and the worshipers who came to lift their prayers to the Holy Apostles. Fr. George then thanked Fr. Stephen for the invitation to serve with the brothers and sisters, "across the river". After the Divine Services, there was a bountiful luncheon in the Parish Hall.
To those who bear the name Peter or Paul, the editors of the website sincerely congratulate you
on your names day.
Many Years!