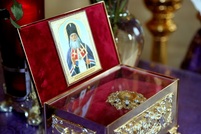 On the weekend of the feast of the Triumph of Orthodoxy, with the blessing of His Eminence Archbishop Justinian, the Holy Relics of St. Luke (Voino-Yasenetsky) were brought to the Russian Orthodox Church of Three Saints, Garfield NJ. Before the Vigil service on Saturday evening, with the pealing of bells and the joyous singing of the Troparion to St. Luke; the rector of the parish, Archpriest George Konyev brought the Relics to the church for veneration.
Once again, on Sunday morning, the Holy Relics of St. Luke were brought out of the Holy Altar for veneration. A large amount of faithful flocked to Three Saints Church for the Divine Liturgy commemorating the Triumph of Orthodoxy, as well as to lift up their prayers to the Holy Hierarch Luke.

After the Divine Liturgy, the Holy Relics were brought to Sts. Peter and Paul Cathedral in Passaic for the annual Lenten Vespers.