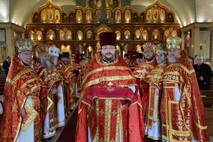 On Bright Saturday, May 11, 2013 Divine Liturgy at Three Saints Church was held between clerics of the Patriarchal Parishes in the USA and the Eastern American Diocese of the Russian Church Abroad.
His Eminence Justinian, Archbishop of Naro-Fominsk, celebrated the divine service, co-served by His Grace, Bishop Jerome of Manhattan, and a multitude of clergy.
Prior to the beginning of the service, Archbishop Justinian tonsured three parishioners of the Patriarchal Parishes to the rank of reader: George Konyev (Three Saints Church), Alexander Bacik (St. Elias Church in Battle Creek, MI), and Valeriy Ignatov (St. Nicholas Church in Bayonne, NJ). During the Little Entrance, with the blessing of His Holiness Patriarch Kirill, His Eminence bestowed awards on clergy of Patriarchal Parishes:
Archpriest Roman Star (Dean of the Central States)

and Archpriest Timothy Barna (rector of St. Michael the Archangel Church in Redford, MI) were awarded the miter

Archpriest Lawrence Bacik (rector of St. Elias Church), was awarded the jeweled cross;

and Priest Mikhail Kapchits (rector of St. Nicholas Church in Bayonne) was elevated to the rank of archpriest.
After the Prayer behind the Ambo, Archbishop Justinian proclaimed the Prayer at the Breaking of the Artos, after which the Archpastors, clergy, and faithful processed around the church, with their joyous cries of "Christ is Risen!
After the Divine Liturgy, a grand trapeza was held in the Parish Hall under the direction of Parish Protodeacon Daniel Sudol and a multitude of parishoners who lent their assitance to the church to make a joyous Paschal day a success!