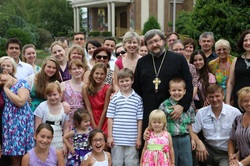 On Sunday, June 30, 2013 parishioners of Three Saints Church warmly celebrated (and suprised) their hard-working priest, Fr. George Konyev, with a celebratory banquet in honor of his 50th Jubilee. Parishioners of all ages assisted in the decoration, food preperation and celebrations for their priest. Many Years to Fr. George!

A Brief Message from Fr. George:
Yesterday my true friends and parishioners greeted me on my 50th Birthday! Sincerely and warmly I thank you all!