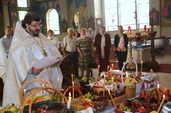 Troparion, in Tone VII --
Thou wast transfigured on the mountain, O Christ God, Who didst show Thy glory unto Thy disciples as far as they could bear it, May Thine ever-existing light shine forth also upon us sinners through the prayers of the Theotokos,O Bestower of light, glory be to Thee!

On Monday, August 19, 2013 the Holy Orthodox Church celebrates the Transfiguration of our Lord and Savior Jesus Christ. The festal Divine Liturgy was celebrated Monday morning by the Parish Clergy. Despite it being the beginning to the civil work week, a large multitude of faithful gathered in the church and partook of the Holy Mysteries. After the Divine Liturgy, the traditional Blessing of the Fruit was preformed.