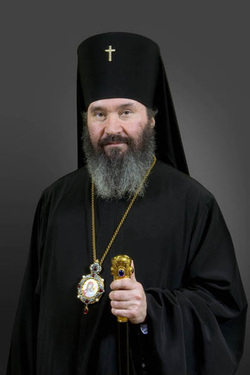 His Eminence Archbishop Justinian appeals to the Clergy and Laity of the Patriarchal Parishes of Russian Orthodox Church in the USA on Current Events in Ukraine
Dear in Christ, Reverend Clergy and Laity of Patriarchal Parishes of Russian Orthodox Church in the USA!
Great Lent is coming, and our minds are not at ease. It is never a simple task to follow the narrow and thorny path leading to the salvation of one's soul, and there always arise various difficulties and troubles, which attempt to divert us from the one thing needful - life in Christ. At the present time, in close proximity to Forgiveness Sunday and the beginning of Great Lent, we are concerned about the alarming news from the canonical territory of the Russian Orthodox Church ― Ukraine. In Kiev, ― the mother of Russian cities— brother rose up against brother, and human blood has been abundantly shed! Will we ― Christians ― be able to preserve common sense and the intent to preserve peace in our souls, families and church communities?
Let us remember Apostle Paul's words:" there cannot be Greek and Jew" (Col. 3:11); and, continuing his idea: neither Ukrainian, nor Russian, but we are all called to be one in Christ!
Let us remember the times of persecution against Christianity, when to the question of the tormentors about name, nationality and social status the answer of the confessors was: "I am a Christian!"
The Patriarchal Parishes in the USA consist of people of different nationalities, up-bringing and origin; which, naturally, can influence attempts to assess the events in Ukraine. I dare not hope that all of us, even as being spiritual children of one Church, can have the same social and political views. But I call on all of you, my beloved brothers and sisters in the Lord, that no one dare rupture internal peace within the parish, and not make the House of God into a political battlefield.
If one's soul is distressed, if one cannot find words to call for peace, love and concord, choose the better alternative ― keep silence when visiting the gathering for worship. In the Church household let the name of Ukraine sound only in our fervent prayers for peace amongst those who are in conflict, and for the repose of the souls of the servants of God slain in fratricidal combat.
David the Psalmist, who left us examples of prayer in various circumstances of life, in one of his fervent hymns pleaded: "Pray for the peace of Jerusalem" (Ps. 122:6). So I also dare to call on you with the following words: pray for the peace and well-being for the suffering people of holy Kievan Rus ― Ukraine!
May the Wise and Almighty God grant us understanding and strength to spend worthily the salvific days of Great Lent, inspire in us sincere striving for the improvement of our life,
and
may He sustain the spirit of humility and meekness in our souls! Let us cry out with St. Ephraim the Syrian: "
Yea, O Lord and King, grant me to see my own transgressions, and not to judge my brother, for blessed art Thou unto the ages of ages. Amen
."
JUSTINIAN,

Archbishop of Naro-Fominsk, Administrator of the Patriarchal Parishes in the USA
---