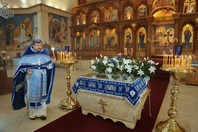 On Monday, August 27th, the eve of the feast of the Dormition of the Holy Mother of God, the rector of the church of the Three Hierarchs celebrated the All-Night Vigil with the Office of the Burial of the Holy Theotokos. At the singing of the Great Doxology, the shroud of the Theotokos was censed and brought in procession. Glory be to God the inclement weather around the area, held until the conclusion of the services.

On Tuesday, August 28th, the actual feastday of the Dormition of the Theotokos, the festal Divine Liturgy was served with a large number of worshipers gathered. At the conclusion of the Divine Liturgy, the blessing of the Fragrant Herbage was conducted.

Photos along with video is available to our readers below.