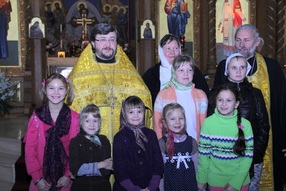 On October 22, 2011, our church was visited by very "small" familiar faces. Archpriest Nikolai Stremsky, His Matushka and some of his children visited our church to celebrate Vespers together with gathered parishioners.

During the service, the children of Fr. Nikolai sang the responses along with our church choir.

At the end of the service, parishioners were given the opportunity to learn more about the Stremsky Family.

Caring for a family of fifty-seven, is quite tough, therefore those gathered in church today, gave what they could, to help Fr. Nikolai with the ongoing efforts of providing for such a large family. Collectively, parishioners raised $3,021.58 for the family.

Many Years to Fr. Nikolai and his Matushka, for all their works in God's Vineyard.