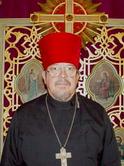 On June 24th, 2012, at 7:15 am, Priest Michael Sydek, cleric of the Patriarchal Parishes, reposed in the Lord at the age of 68, having suffered for many years.

Father Michael was ordained to the diaconate in 1992, and to the holy priesthood in 1996. He served as cleric in St. Andrew's Church in Philadelphia, as rector of St. Nicholas Parish in West Chester, and later at St. Nicholas Parish in Reading, PA. He retired in 2005 due to ill health.

Fr. Michael was a good priest and a kind, gentle soul. May the Lord grant his long-suffering servant Priest Michael eternal rest among the saints.

Source:Fr. Stephen Kaznica

Memory Eternal! Вечная Память!