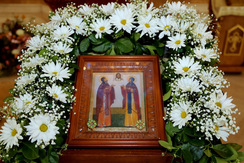 On Sunday, July 15, 2012 the Sixth Sunday after Pentecost, the Administrator of the Patriarchal Parishes in the USA, his Eminence Archbishop Justinian of Naro-Fominsk made an Archpasotral visit to Three Saints Church in Garfield NJ. This historic visit was also important in the life of the parish, because of the visit of the Icon of Sts. Peter and Fevronia, along with pieces of their Holy Relics.

His Eminence was coserved by parish clergy, Archpriest George Konyev and Protodeacon Daniel Sudol, along with Igumen Nikodim (Balyasnikov), Archpriest Evgeny Goncharenko and Deacon Mark Rashkov who are clerics of St. Nicholas. Cathedral in NYC.
The Divine Liturgy was attended by a large majority of believers, despite the summer months, who wanted to lift uf their prayers to Sts. Peter and Fevronia.

After Vladyka's sermon, Archpastoral Gramotas were bestowed on longtime and worthy members of the parish; Mary Lisovsky and Mary Schack.

After the conclusion of the services, the parish joined Vladyka in a celebratory luncheon in which Archbishop Justinian interacted with the parishioners.