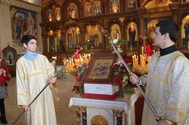 The Great Feast of the Nativity of our Lord and Saviour Jesus Christ, was celebrated on January 6-7, 2013 at Three Saints Russian Orthodox Church. To begin the celebrations, on Sunday Jan 6, Divine Liturgy along with the Festal Service of Great Vespers was served. At its conclusion, the singing of the Nativity Troparion was sung for the first time of the 2013 year, and the Icon of the Nativity of Christ was processed to the center of the church. That night, the Service of Grand Compline and Matins was served with a multitude of worshipers gathered.
On the actual feast of the Nativity of Christ, the Divine Liturgy was celebrated. Despite it being a civill workday, the church was filled with believers, raising their prayers to the newborn Saviour.
Photos along with videos of the feast are available below.
Christ is Born! Glorify Him! - Христос Рождается! Славите Его!