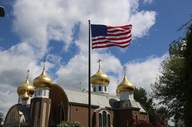 Year after year on the last Monday in May, Americans celebrate Memorial Day. A day dedicated to the fallen men and women of the American Armed Forces. While others mark this day with personal celebrations and parades, Orthodox Christians living in the United States created traditions and celebrate in a different manner.

On the Fourth Sunday after Pascha, and annually the closest Sunday to Memorial Day – the Russian Orthodox Church of Three Saints in Garfield NJ processed to the nearby Flagpole and commemorative stone dedicated to the Men and Women who gave their lives for the freedom of others. The parish's rector Archpriest George Konyev celebrated a Panikhida, for those in uniform and in particular the parishioners of Three Saints Church who perished defending their country.

The Panikhida this year was especially joyous, being that it was still Paschaltide, the clergy and faithful were able to proclaim the Paschal greetings to those who fell asleep in the Lord.

On Monday, May 27, Fr. George and group of Altar servers departed early in the morning to George Washington Memorial Park in Paramus New Jersey, and placed flags at each individual grave marker, dedicated to a veteran. About one hundred departed veterans are buried at the Russian Orthodox Section of the cemetery.